Back to Events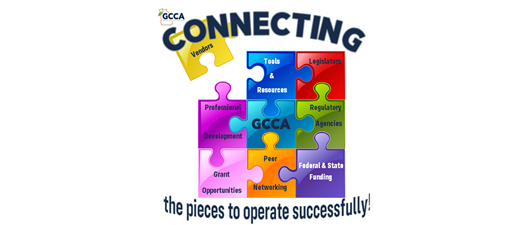 GCCA 2023 Fall Owners' and Directors' Conference & Annual Meeting
Join industry experts, valuable vendors, and ECE colleagues for this event!
Wednesday, September 20, 2023
at
5:00 PM (EDT)
to Thursday, September 21, 2023 at 5:00 PM (EDT)
Event Details
Don't miss our 2023 Fall Owners' and Directors' Conference & Annual Membership Meeting on Sept. 20th and 21st!
Join us at the Hilton Peachtree City Atlanta Hotel & Conference Center in Peachtree City!



We are looking forward to an event with plenty of CONNECTING as you network, learn, and share to help you put all the pieces together for a successful program!

As you have come to expect from GCCA Conferences, we bring Vendors and Sponsors and industry experts together to share their goods, services, and information with you!

In addition, you will get up-to-date and pertinent legislative and advocacy news from our CEO Ellen Reynolds during the Annual Meeting, meaningful connections made throughout the day, and opportunities to win fabulous prizes and cash during our Silent Auction and 50/50 Raffle!



Stay with us at the Hilton onsite so that you can get the most out of this conference both the evening of 9/20 and all day 9/21!

Join us the evening of 9/20 for a social hour and special presentation by industry favorite Vernon Mason, then rest well in the rooms onsite; start 9/21 off at breakfast with colleagues before a full day of information you need for your business!


GCCA has worked with the venue to offer the following GCCA Room Block at the Hilton Peachtree City Atlanta Hotel & Conference Center. Reservations must be made here:

Group Code Booking Link: GEORGIA CHILDCARE ASSOCIATION OR https://group.hilton.com/i2pars

Registration for the conference is not refundable. Please be sure to update any email addresses and information as you register, or contact admin@georgiachildcare.org.

Register today and call a colleague to do the same!


Download Agenda
For More Information:
Mary Lyons
Director of Programs
Georgia Child Care Association
(706)372-0750
Thank You to the following sponsors, who make this event meaningful for you:
Platinum Sponsors
Phoenix Associates Insurance
Strawn & Company, Insurance
Solutions 4 Child Care
Childcare Finance
PB&J TV
School Investment Properties
Better Beans
Jovie
Gold Sponsors
Tree Enterprises
EducatorsNow
SitterTree
Clix!
RTI International: Clean Water for Georgia Kids
ProSolutions Training
Mountain High Mulch
Silver Sponsors
PureFUN!
KangarooTime
Early Education Acquisition Specialists
IntelliKid Systems, LLC
Hinge
UpKid
Bronze Sponsors
Kaplan Early Learning Company
Discount School Supply
Kidokinetics
Fun Science
DECAL Scholars
Georgia Caregivers Fire Safety Education and Training
Blazon Carpool
Frog Street Press
Childcare Properties
School Realty Advisors
Check out the agenda to see the sessions you cannot miss!! Topics are geared for Owners and Multi-Site Support, and for Directors-there is something for everyone to take back to their schools!
Using Artificial Intelligence (AI) as a Valuable Tool in Your School
Employment Law Updates, Trends, and Upcoming Challenges
How to Grow Before You Go
(Re)Connecting with Your Staff to Support Your School's Culture
Industry Insights & Collaborations: Roundtable Discourse with Sponsors
Radical Candor
Back on Track: Financial Management without STABLE Grants
Catching Up with our CEO Ellen Reynolds
The Power of Play
10-Minute EdTalks: Enlightening Insights by Childcare Visionaries
Don't Waste a Crisis: A Story of Perserverance During Tough Times
DECAL Panel Updates
Navigating Post-Pandemic Preschool Classrooms
Clean Water, Healthy Minds: Lead in Drinking Water
Farm to ECE IS the Curriculum: Application through QR, Creative Curriculum and More: Growing, Supporting and Funding Farm to ECE in Centers
Wait, what? Are You Kidding Me? (Unbelievable situations and their resolutions)