Control the Narrative, Own Your Brand.
Date posted
August 6, 2019
Control the Narrative, Own Your Brand.
You're a childcare professional; in fact, you're a great childcare professional! You've won awards that proudly hang on your wall and you consistently receive positive feedback from parents. Overall, you are delivering a great service to your consumers. So what's missing? Many school owners tend to get so wrapped up in the service that they're offering that they neglect what ultimately serves as a driving force behind great businesses – their brand. Whether or not you are actively investing in your brand, it is speaking on your behalf. By taking ownership of your school's brand, you take ownership of that narrative which ultimately impacts your reputation and bottom-line.
Your brand is established from who you are, who you strive to be, and who consumers and potential consumers perceive you to be. Are you a cutting-edge maverick in the industry with the latest and greatest outdoor playspaces? Or the experienced, reliable one with a tried and true curriculum? Is your school the high-cost, high-quality option, or the low-cost, high-value option? There's a well-known quote that says, "You can't be everything to everybody." This is especially true when establishing your brand. Somewhere along the way you may have hired a designer to create a fancy logo for your school. You're thinking along the right path, but at its core, a brand is much more than nice colors and trendy fonts. At Better Beans Branding, we work with our clients to not just create a logo; we help our clients navigate the process of establishing a strong brand that helps drive their ROI.
What is your school's brand?
A school brand includes everything from the logo and tour book design, the interior atmosphere and aesthetic, to the language used in marketing and your social media presence. The primary components of a brand identity, which essentially make up your customer's overall experience, include: brand voice, brand image, and your school's atmosphere. Each brand element should align with one another and with your school's mission and core values.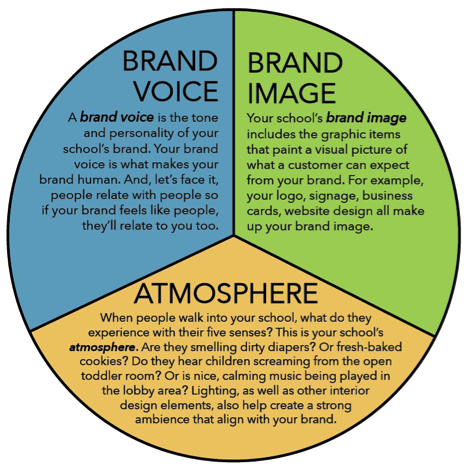 Time doesn't slow and brands can age poorly. Keeping this in mind as your structure your brand will lend to your brand developing and expanding in a way that is authentic and connects with your consumers along the way.
Getting to know your brand and what makes it great.
As mentioned earlier, you can't be everything to everyone. Defining your brand takes a good amount of self-reflection into what your school does well, along with the areas where you may fall short. A strong mission and core values should be the backbone behind defining your brand. These allow your consumers to see, often in simple, bulleted points, who you are and what you stand for. Speak with your staff to gather more insight into your school's strengths and weaknesses and don't hesitate to reach out to a branding company like Better Beans Branding for expert help in building your brand.
Final notes.
When you take a closer look into defining your school's brand, you'll be able to determine your competitive advantage and stand out for what makes you spectacular. A brand is more than a logo. A brand evokes emotion. It's about building a relationship with your consumers and keeping them for life.
Struggling to establish your brand? Contact us at info@betterbeansbranding.com for expert advice in navigating the process.