Invest In Your Future
"Learning is a treasure that will follow its owner everywhere."
~Chinese Proverb
An essential part of GCCA's mission is to provide opportunities for owners, directors, and their staff to gain knowledge in every aspect of the early care and education industry. We offer a variety of learning settings, whether it's off-site courses, conferences, or district-based networking events.
Check out our comprehensive training and events options and find the offering that facilitates your success!
---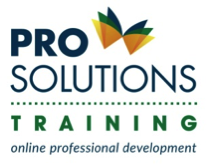 ProSolutions Training
Available 24-7-365, our on-line portal was created with convenience in mind as it contains management functionality so owners and/or administrators can direct employees to specific, desired modules. ProSolutions Training supports our advocacy efforts by donating a percentage of all training purchased through the GCCA-ProSolutions website below.
Enter the ProSolutions Training Portal
---
ChildCare Education Institute
Visit CCEI's website to learn more information.
Phone: 1.800.499.9907
---
Webinars
The Georgia Child Care Association partners with our Vendor Partners to provide online learning options to meet the professional development needs of our members and their staff. GCCA understands that well-trained, qualified administrators and teachers are vital to the success of your business. We are confident our on-line offerings have the necessary expertise and experience to provide high-quality training on relevant, meaningful topics.